MAP
See here for a map of the important WISSec locations.
PARKING
Parking in Luxembourg is payed everywhere. We arranged with the University of Luxembourg to have some parking space available on Campus Limpertsberg (Avenue de la Faiencerie 162a, Luxembourg) in the "Don Bosco" parking lot. Please announce at the barrier that you are visiting the WISSec conference.
VENUE
Address:
Auditoire François Tavenas
Avenue Pasteur 102a
L-2311 Luxembourg
WISSec2007 will be held in Auditoire François Tavenas, in the Residence des Dominicaines of the University of Luxembourg. The Auditoire is reachable by bus 3 heading to Limpertsberg, stop "Batty Weber" is right at the entrance.
TRAVELLING DIRECTIONS
Luxembourg city is easily reachable by plane, train and automobile. Flights arrive from amongst others Amsterdam and Brussels.
Auditoire François Tavenas is located at a 2 minute walk from Campus Limpertsberg (directions). The map below depicts the walk from Limpertsberg to the Auditoire (click for a larger version).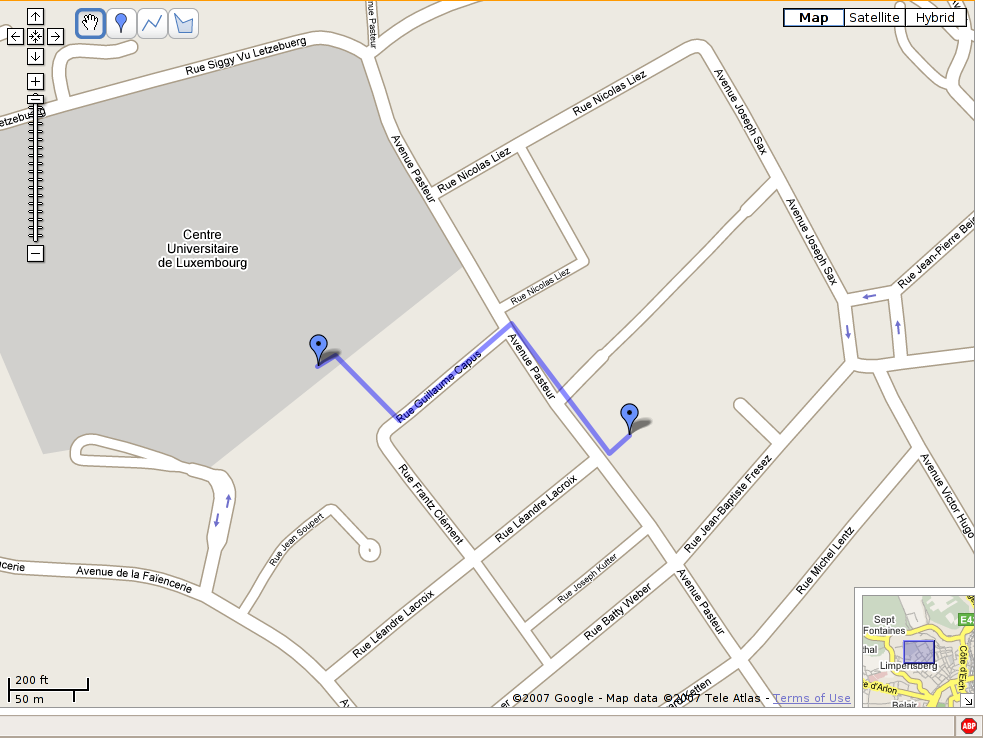 ACCOMMODATION
ARRANGE YOUR HOTEL EARLY!
We have been informed that the WISSEC workshop takes place during a busy week for hotels in Luxembourg. Hence we urge all attendees to make their hotel arrangements as swiftly as possible!
NOTE:You will have to arrange your stay yourself!
There are quite a number of hotels in Luxembourg. Bus connections from the center are good, and the center is within walking distance (± 15 minutes) from the venue. Some options include:
Near the venue:
Furthermore, see the website of hotels in Luxembourg for other hotels.
The
youth hostel
may be an interesting option for students. (full on Wednesday evening, on the time of writing (4th of September), sufficient space on Thursday.)
ABOUT LUXEMBOURG
Luxembourg is the European capital of culture in 2007. The weekend after WISSec, a Science Circus will be held in Luxembourg at Abbaye Neumunster:
Cirque des Sciences
To live and understand nature and technology, it is not enough to merely observe. One must put all one's senses on alert to immerse oneself in the world of the sciences. This is a call to all young people. The Natur Musée and the CCRN will be presenting a three-day street festival with discovery workshops to approach climatology, robotics, and mathematics. And in a large tent, there will be startling, sparkling experiments for the public to study physical, chemical, and mechanical phenomena. Along with all this expect parades, strolling musicians, jazz concerts, puppet theatre, fire-eaters, jugglers, and musicians, making the Science Circus a truly enjoyable experience that will bring to life the close links between science and culture.